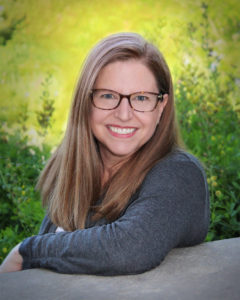 I started writing fiction early on, thanks to a creative third-grade teacher, and that was the beginning of my lifelong fascination with the magic of words. I wrote my first novel in high school (and I am very glad the publisher rejected it!) and that was when I realized how important an enthusiastic reader is. That book wouldn't have existed without the interest and encouragement of a good friend. It's when I decided to "be" a writer.
I tried not to be an English major, really I did. But in the end, literature was the way I felt I could get the broadest education. Then I worked for a couple of years before applying to an MFA program. I didn't get accepted, which also turned out to be a good rejection, and I ended up getting a more "real world" master's degree.
After that, life took me down other roads, and it took far too long to come home to writing fiction. It ended up being science fiction for two reasons. One is that despite the English major thing, I have always, always been drawn to and thrilled by science, and the connections between what humanity discovers, dreams and creates inspire me. The second is that the best science fiction enables a very focused exploration of any aspect of life you choose. You can create a world, a society, a species, whatever you need to build a story around a concept. My stories are my attempts to do that.
For my day job, which I enjoy on most days, I focus on strategic corporate communications. In recent years I've spent most of my personal time on writing projects. Beyond that, it's a quiet life: hanging out with my number one guy, reading, playing piano or harp, spending time in the garden, that kind of thing. I also love going to the symphony when there isn't a pandemic going on. My favorite vacations are walking trips, and I've got a wall of photos from beautiful places all around the world to help me dream..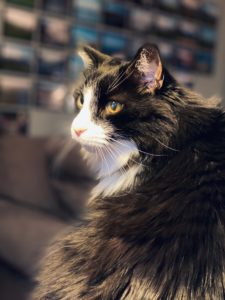 During the pandemic, I've had to rely on frequent forays into the woods near my house. A good walk in the woods seems to wake up my creativity and always restores my sense of balance. Then I can settle down somewhere cozy and dive into a story. My cat Henry coauthored my latest novel by helpfully sitting on the keyboard to keep me from writing sentences he disagrees with.
Author photo by Lori Strohmaier